Newsletter from 2008-10-31:
Hey SCUBA Squad!

Night of the Dead is almost here, so if you didn't get your tickets yet, go to the link below to get the pre-show ticket discount! We can't wait to play the Majestic. We've seen a lot of great bands play there recently (Blind Melon, Mike Gordon, and Derek Trucks quickly come to mind) so it's an understatement to say we're looking forward to rocking that place! We can't wait to see all the creative costumes and hang out with all of you at the 2nd annual Night of the Dead!

Click HERE to buy Tickets!

Check out the Lee Rayburn Show on theMic 92.1 FM Friday morning from 6:00am to 8:00am when Chad, Jason, and John do an acoustic set in the studio and chat with Lee about the Night of Dead and other topics. If you missed the show because you're reading this at 8:01, subscribe to Lee's Podacast. Or even if you didn't miss it, subscribe to the podcast anyway. It's a great show and we can't thank Lee enough for having us on again.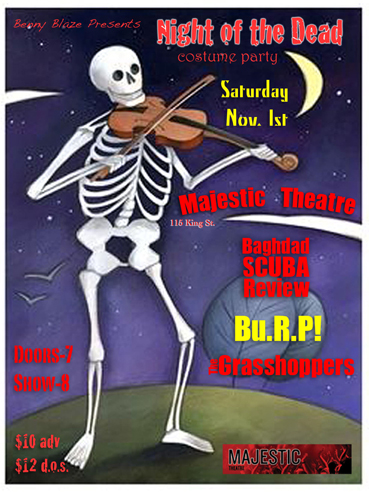 From TheDailyPage.com:
http://www.thedailypage.com/theguide/details.php?event=208906

Baghdad Scuba Review, Bu.R.P., The Grasshoppers
Music: Clubs
Grateful Dead tribute

When: 11/01/08 @ 8:00pm
Cost: $10 adv., $12 d.o.s.
Call: 217-9278
Web: www.baghdadscubareview.com

More Information:
Local jam bands Baghdad Scuba Review, The Grasshoppers, and Bu.R.P! have been confirmed to appear at The Majestic Theatre on Saturday, November 1st at the 2nd Annual Night of the Dead. The event falls on the Mexican holiday The Day of the Dead. Tickets are $10 prior to the show, $12 Day of show and are available through all Majestic Theater ticket outlets and at the Majestic Theater's website, www.majestictheater.com. The Show starts at 8pm with doors opening at seven. Falling on the week of Halloween, the event will have a political message and be an encore for costumes with a Grateful Dead musical theme.

All three of the bands have recently played to packed crowds at Madison's finest rock club, the High Noon Saloon. Last year, Baghdad Scuba Review and Run Side Down (now Bu.R.P!), played to a packed house at the first Night of The Dead, held at the Barrymore Theatre. This year we are excited to add the psychedelic jammers, The Grasshoppers to the show.


Baghdad Scuba Review is one of Madison's favorite bands. A group of highly politically driven musicians, the band's left wing message speaks for change in a city that is very receptive to it. They are known far and wide for their excellent Grateful Dead covers and vocally driven originals that all the hippies can get down to. They are a sextet (Hand Percussion, Guitar, Lead Guitar, Bass, Keys, and Drum Set), and this band throws down with their tight grooves and clean tones.

The Grasshoppers are no stranger to the Madison Music Scene. They have recently been melting faces at clubs all over Madison including t! he High Noon Saloon, Alchemy, and Harvest Fest but their music is not limited to the Madison area as they play at clubs throughout the Midwest with their brand of psychedelic prophecy.
Bu.R.P! is a fusion/funk trio formed after the end of Madison's Run Side Down, who co-headlined the show last year at the Barrymore Theater. Heavy funk and dance beats accompanied by screaming melodies has made this band a regular in the Madison Jam scene. This year's Night of the Dead, however, will be a bittersweet finale for the trio, as drummer Jon Reed will be moving on to pursue new endeavors.

"The Night of the Dead" a Benny Blaze Production
Baghdad Scuba Review, Bu.R.P., and The Grasshoppers
Saturday, November 1st - 8pm - $10 presale, $12 D.O.S
The Majestic Theatre - Madison
An Encore for your Halloween Costume!

For additional information please visit the Bands' websites and majesticmadison.com. For more information on Benny Blaze Productions, please find us on the worldwide web at the following locations:

www.baghdadscubareview.com, www.myspace.com/grasshoppersmusic, www.myspace.com/burpmusic, www.majesticmadison.com


See you there!