February 9th, 2008
BSR returns to the Northwoods of Wisconsin.
Almost a year to the date, we returned to The Waterfront Bar & Grill in Menominee and The House of Rock in Eau Claire for our 2nd annual Northwoods excursion.

We were wondering if last years filled to capacity, super friendly crowd and even friendlier staff was just an anomaly at the Waterfront. It turns out it was. After undergoing a management change, the place is BETTER than ever. They added a sound system with a very skilled and competent sound guy, the place was still packed to capacity and the staff was still the friendliest around. We played as a five piece for the first time ever, when John was unable to make the first night stuck at home with the stomach flu. We pulled together to have a great set and the crowd got to see a truly unique BSR show. The Yokanizu Project was along on the trip again this year and played a great set that got the crowd fired up.

The next day we were off to Eau Claire and made our regular pit stop at Ray's Bar and Grill for Ham/Beef Sandwiches with a healthy dose of their famous Hot Mustard which is famous only for being realy, realy, hot. Ok, it's pretty tasty too after you stop crying what people call tears of joy.

The House of Rock saw us in our blue coveralls. Our first out of town appearance in them. The night rocked with Yokanizu Project and Bill and Dan's Excellent Adventure. High energy from all the bands helped make the night memorable. It was a great trip and we can't wait to do it again next year, if not sooner.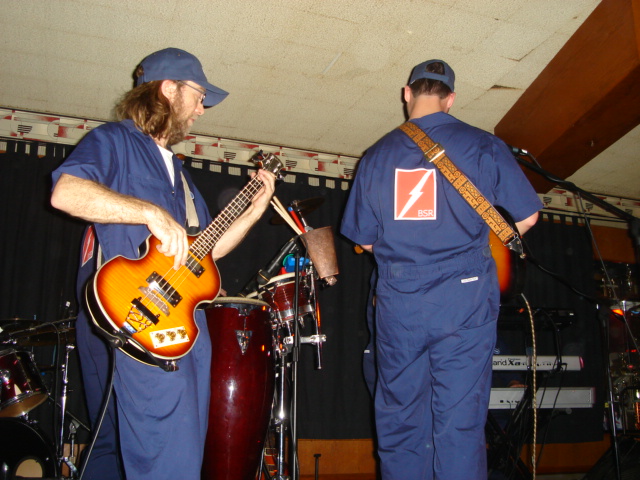 Erik and John modeling our new blue coverall's on stage.